My family has a long history with Big Sur, the magical, beachy, forest nestled along the central coast of California. While living in San Luis Obispo, my parents used to get-away there before having kids, and we still made trips up there after my brother and I arrived on the scene.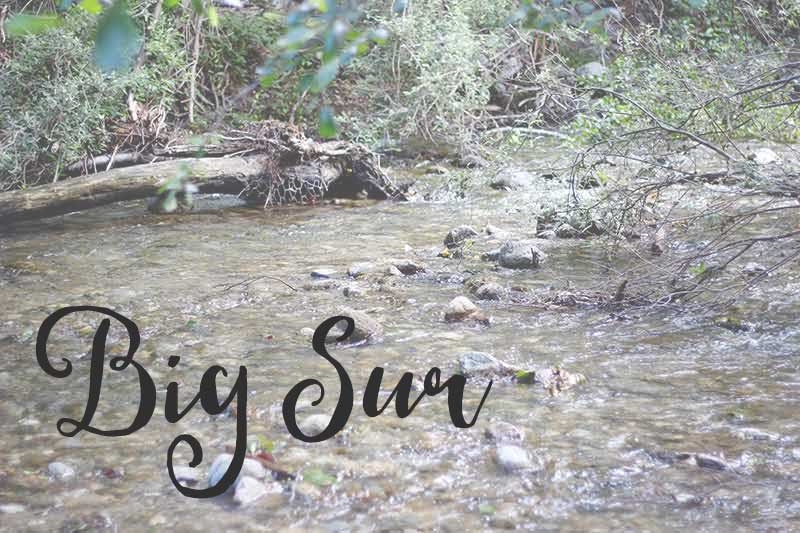 I love looking at those pictures. I've mentioned before that I don't have a lot of background information on pictures from my younger days but the pictures from Big Sur are still some of my favorite. The scenery is just breathtaking.
Reza and I spent time there for our first anniversary at the Ripplewood Resort cabins. That's really when I fell in love with Big Sur. The wind, the trees, the soft sound of rushing water all around you. The quant little restaurants and shops. The people you meet from all over the world who come to this, somewhat remote, place to reconnect with nature. I love this sentiment I found on Pinterest:
I knew that this place and the experiences it offers was something I wanted to share with my own kids and last month I got to do just that. My Aunt and Uncle had some campsites reserved and asked if we were interested in taking one. I jumped at the chance and invited some close friends to join us.
We made the six-hour drive up from Los Angeles pretty uneventfully. Despite having three young kids and four adults we only had to make one stop for lunch, in San Luis Obispo. We decided to grab some sandwiches at Mr. Pickles. It was a good choice. They make their own bread and you get a free cookie with every sandwich. A score for the kids!
Pfeiffer Big Sur State Park
The drive up the 101 Freeway to Big Sur is one of the best around. From San Luis Obispo, through Morro Bay and Cambria, past San Simeon and Hearst Castle, and on up to the winding cliffs with the breathtaking views. It's on many a "Best Road Trips" list.   Hearst Castle is a site to see but our kids are still a little young to enjoy it, so we decided to save that for another time. We made good time and pulled into Pfeiffer Big Sur State Park around 5pm.
Our campsite was in a great location not right on the main loop and close to Big Sur River. Though the river was more like a stream. The water was so low that we were able to set up our chairs right in the middle and watch the kids splash around. The older kids were able to ride their bikes around the campsite loop and made friends right away. All of the adults reminisced about memories of biking around campsites growing up. Definitely a rite of passage.
The only downside to the campsite was the poison oak that was pretty much EVERYWHERE and we had run-ins with wildlife (raccoons and skunks) pretty much every night. I'm still thanking the stars that everyone (including the five kids) emerged from the trip unscathed, no one got a rash and no one got sprayed. Any tips for minimizing food on the ground while camping with kids?
I brought my "big camera", a Canon T3i and my 50mm lens. I'm glad I did because those are definitely my favorite pictures. Next time, I'm packing my tripod too. Leaving the camera out and setup will help me remember to take pictures throughout the day. I didn't get any pictures of our actual campsite mostly from being busy with the kids and because I kept my camera and phone put away while we were at camp.
There was no service in the campground so there wasn't a reason to have my phone out except to use as an iPod. I'm really glad we brought our Jawbone Jambox Bluetooth Speaker so we were able to have music while we were in camp and down by the river.
Pfeiffer Beach
We spent one morning at Pfeiffer Beach. It was pretty cold and foggy, not unusual for Big Sur. The kids played in the sand, explored, and had fun climbing up and running down the big sandy hill.
We made a couple local grocery runs, and Big Sur General Store at the Big Sur River Inn & Restaurant was our favorite. Ally and I each picked up a bar of Big Sur Country Soap because it smelled too amazing to resist. I got Sea Kelp and Ally got Ginger Spice. After getting the necessary groceries we took our time and treated ourselves to some ice creams (shhh!!! dont' tell).
Monterey
Later that same day we headed up to Monterey for the evening. We got there too late for the Aquarium, but I'm definitely making it a priority for next time around. The Monterey Bay Aquarium is my favorite in California and I have fond memories from when I was young. We ate at Fisherman's Wharf and then discovered the trolley so the kids had fun riding that over to Cannery Row.  We stopped for dessert at Ghiradelli and ate way too much ice cream.
Our last full day was a relaxing one. We did a short, 2 miles roundtrip, morning hike to Pfeiffer Falls. All of the kids made it up and back, with minimal whining, so that was definitely a win. The two-year-olds were strapped in backpacks. I used a Tula and Lola slept pretty much the whole way up to the Falls.
Our friend Jenn recommended we stopped at Big Sur Bakery for breakfast on our way home. Their pastries were delicious and made from fruit they grow right there on the property. It's a little pricey but I highly recommend it. For lunch, we made the traditional stop at Pea Soup Andersen's.
It took WAY longer to get home than to go up. Driving through Santa Barbara on the weekend is pretty brutal and we had to make an extra stop due to a sick kiddo =(. By the time we got home everyone was beat and ready for a shower.
It was a great week and will definitely be a new tradition for our family. I'm grateful to my Aunt for inviting us and to our friends The Hall's and The Paul's for making the trip with us. I'm already excited for next year!