Going to CHA last year was one of the highlights of my year. I  had so much fun with my friend Rachel checking out all the new products. With CHA 2017 (renamed Creativation) coming up soon I wanted to finish up my CHA review from last year with American Crafts.
American Crafts is the powerhouse of the papercrafting industry. Since they own many of the big brands like Project Life, Heidi Swapp, and Studio Calico, their footprint at the show is pretty huge. They also put together collections each year with some really creative designers and those designers get to put together their own really AMAZING, and super cute, displays which were so awesome to see in person.
Shimelle
First up was Shimelle and her new Starshine collection. I'm usually a more neutral girl but I loved the blue's in this collection (blue is Reya's favorite color) as well as the stars and globe embellishments. Shimelle was so sweet in person and showed me around her display. It really is so cool to meet these people you follow online, in-person!
Project Life
Meeting Becky Higgins at the Project Life booth was a highlight of my life. She is such a sweet person and really epitomizes mindful memory keeping.
In the Project Life Booth the Everyday Edition designed by Liz Tamanaha of Paislee Press was a fave of mine. I love the neutral color palette for both Project Life and layout projects.
The new Currently Edition designed by Peppermint Granberg of One Little Bird designs was a big request from people. It's soft tones and interesting cards make for a really versatile kit. Separately, the Explore Edition is a great gender neutral kit for the adventurers in your life.
Heidi Swapp
The Heidi Swapp booth had the biggest footprint in the American Crafts area and was PACKED every single day. Heidi and her team were there demonstrating her Minc foiling tool and her new Minc heat-reactive mediums. Her Lightbox and accessories were all over the place too. There were also Minc-able accents to go with all of the new Designer Lines. Heidi Swapp has a huge selection of products that also include planners and planner accessories, her marquee  line, and NEW art journals and journal books. If you've been in a Michael's recently you've seen her stuff and it's all pretty cool.
Even though the booth was super busy Heidi took time out to take pictures. If you know her story she has recently dealt with a major loss and we were able to connect in that way. It was very special to meet her.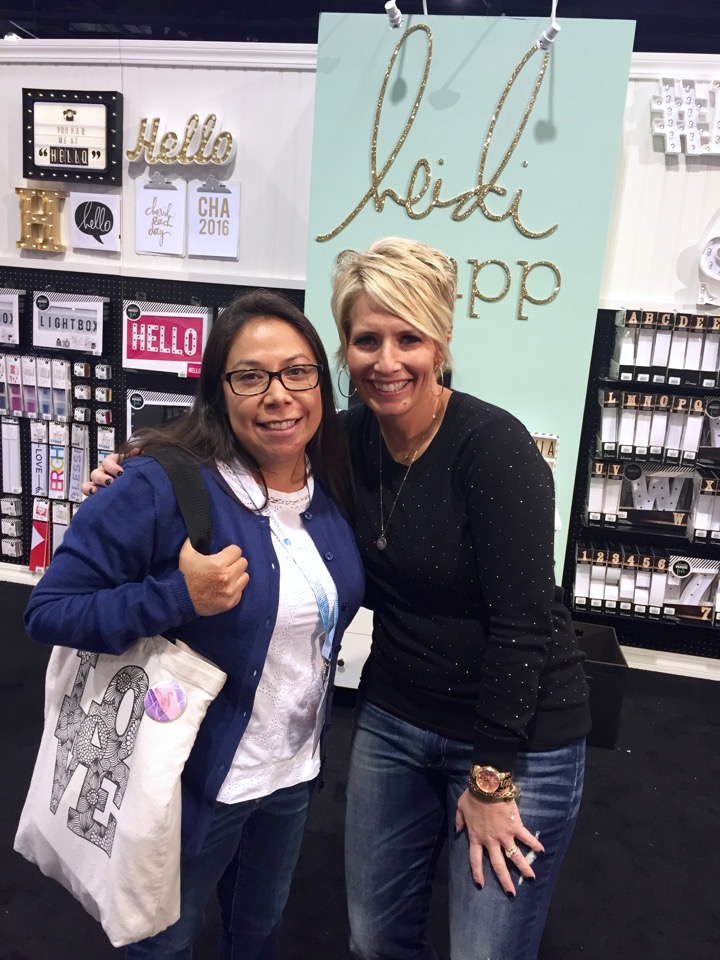 Maggie Holmes
The Maggie Holmes for Crate Paper Bloom collection is gorgeous. Her designs are always so classic and floral with a little bit of bling. Maggie was there when I visited and we got to take a pic. She is tall and her smile is so bright. =)
Crate Paper
Crate paper also had a Valentines' inspired HELLO LOVE collection which could be used year-round. Lots of red and hearts which I love for all kinds of projects.
American Crafts had some different products featured on their endcaps including decorative office supplies like notebooks clipboards, paperclips, and file folders.
Amy Tangerine
My favorite line from American Crafts was Amy Tangerine's Better Together line. I love the bright colors but I REALLY love the hummingbird elements. My grandma's and my Mom's favorite bird is the hummingbird so this line really makes me feel tender. When I visited Amy wasn't at the booth but her Mom was and she shared that the hummingbird was special to their family too because of Amy's Grandma. Check out Amy's video where she gets a special visitor in her home just before she leaves for CHA.
The American Crafts Hall Pass notebook line combines the coloring trend with decorative office supplies.
Color Blast from American Crafts for all your celebration needs.
Pink Paislee
Pink Paislee Fancy Free Collection designed by one of my favorites Paige Taylor Evans. String Art and Paper Piecing. She's one of the best.
Pink Paislee C'est La Vie  is a beautiful line with gold and whitewashed papers and embellishments, decorative notebooks and office supplies.
Many of these products are still available at scrapbook.com and I've included as many links as I could.
This is the final post from my 2016 CHA review. Here are links to: Part 1 | Part 2 | Part 3.
I was able to purchase some of these products after the show and am planning to put them to use this year as I rededicate myself to my memory keeping as a creative practice. Stay tuned!